Event Site
The event is all about the community of Canso and 4 local non-profits working together to showcase their community and help out a couple local causes. The Canso Area Development Association approached Lost Shores Gallery last winter if we could create a motorcycle event in Canso. Sure thing, we said, that's exactly the kind of thing we do.
We asked Stanfest if we could borrow their event site for the motorcycle rally and they said, sure thing, how can we help? Then we asked the Lions Club if they could help out with food. Sure thing they said, how can we help? The Lions Club are already on site and always need a fund raiser to support community projects. Then the Canso and Area Arena Commission (on-site arena) asked if we could help raise money for minor hockey and figure skating. Sure thing we said, glad to help out.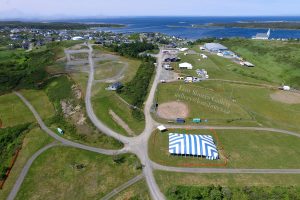 We'll have a liability waiver and a few rules but nothing too onerous, we just want to make sure everything we do is safe and does not leave anyone with an unhappy experience.
You can consume alcohol on Stanfest property but please do not leave the grounds with your drink. That will cause someone some heartburn so please play nice.
Gates open Friday 13th at noon. Upon arrival, you will be greeted with a friendly face and a brief registration process. This will include signing a liability waiver, collecting t-shirt, meal tickets, site map and wrist bands.
Lunches Friday, Saturday and Sunday are not included. You have multiple choices:
Coop Grocery & deli in Canso, open at Fri 8-8, Sat 8-5, Sunday closed
Harbour View Bakery in Canso, open noon to 7 pm, 7 days a week
AJ's Pub in Canso, open noon to 8 pm, 7 days a week.
Canso Arena canteen at the event site.
Robins Donuts and Gas in Guysborough 902-533-2993 6 am – 9 pm 7 days a week
Days Gone By Bakery in Guysborough, 902-533-2762, www.daysgoneby.ca
Big G's in Guysborough, 902-533-1886, www.biggspizza.ca
Averys Independent Grocery & Deli, Guysborough. Fri 8-9pm, Sat 8-6, Sun 10-6